Effetti e processori per chitarra acustica
La chitarra
La realizzazione di una pedal board (pedaliera effetti) per chitarra acustica, costituita da effetti singoli collegati tra loro in parallelo, è, secondo il mio parere, la scelta migliore per i motivi esposti in questo sito nella sezione dedicata. Trattasi tuttavia di una scelta che presuppone un certo investimento in termini economici. Per ovviare a tale inconveniente esistono sul mercato delle soluzioni più economiche. Nello specifico mi riferisco a processori, preamplificatori e multi-effetti per chitarra acustica. In questa pagina illustro quelli maggiormente recensiti su internet riportando le descrizioni fornite dai produttori.
Zoom Multi Stomp MS-70 CDR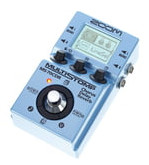 For electric guitars, acoustic guitars and bass, 86 Effects types for Chorus, Delay and Reverb, Up to 6 effects at the same time, 50 Patch memories, Integrated chromatic tuner, Stereo in- and outputs, USB connector for updates, EQ with optimised frequency bands for guitars, EQ with optimised frequency bands for bass, Weight 350g without batteries, Operates via 2x AA/LR6 batteries or additionally available power supply: Zoom AD-16 - Article Nr 105835, Dimensions (DxWxH). 130.3 x 77.5 x 58.5 mm.
Boss AD-10 Acoustic Preamp & FX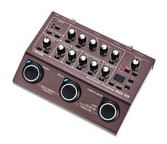 Professional preamp with DI box for acoustic guitars with built-in pickup, "Acoustic Resonance" preserves the natural sound of an A-guitar, which is often lost in Piezoton buyers, 4-band EQ and variable low-cut filter - specially designed for acoustic guitars, Multi-band compressor with MDP technology for transparent dynamic control, Newly developed anti-feedback function, 2 channels with independent EQ to connect 2 instruments, or multiple pickup systems, Effects: Ambience, Delay, Chorus (different programs with adjustable parameters), Boost function with adjustable tune setting, 10x slots for your own sound setups, Built-in looper with 80 seconds recording time, 2x XLR outputs incl. ground lift for direct connection to the PA, 2x Jack outputs, Headphone output, Separate send / return, CTL or expression pedal, USB audio interface for direct recording on the computer, Built-in tuner, Compact housing, Power supply by power supply or 6x AA batteries, Power consumption: 300 mA, Dimensions (W x D x H): 217 x 161 x 65 mm, Weight: 1.3 kg, Incl. power supply.
Zoom AC-2 Acoustic Guitar FX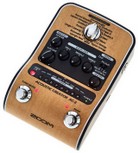 Multi FX & Preamp, Integrated reverb, High quality preamp, For magnetic or piezo pickups, 3-Band EQ, Anti-feedback control, Boost switch, Tuner, USB interface, Parallel outputs for simultauneous connection to guitar amplifiers and PA systems. Controls: source guitar, volume, reverb, bass, middle, treble, boost.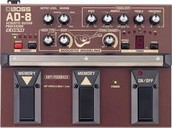 Il COSM Acoustic Modeling permette di emulare il tipo di corpo di una chitarra e la presenza di un microfono di ripresa. Equalizzatore a 4 bande e riverbero di qualità. Funzionalità anti-feedback per evitare rientri di suono indesiderati. Accordatore con possibilità di operare per mezzo della pedaliera. Fino a quattro settaggi possono essere salvati in memoria (utile dal vivo per richiamare impostazioni differenti). Funzionalità di preamp, DI box, uscite stereo bilanciate con interruttore di terra.
AD-8 è un processore a pedaliera che permette di arricchire il suono generato da una chitarra acustica elettrificata con tutte quelle caratteristiche di riverbero e pasta sonora, tipiche del suono acustico, che spesso vanno perdute se il pickup della chitarra non è di grande qualità. L'AD-8 può essere utilizzato sia durante le registrazioni sia in applicazioni dal vivo. In entrambe i casi il suo ruolo è di notevole importanza. L'AD-8 consente di convertire il suono eccessivamente squillante di un pickup piezo in un suono la cui presenza è accostabile a quella di una ripresa microfonica di qualità. Inoltre, per mezzo degli algoritmi COSM Acoustic modeling, è possibile generare un modello di riverbero relativo ad uno specifico corpo di chitarra acustica o tipo di corde. Il suono ottenuto è ulteriormente arricchito con un equalizzatore a 4 bande e riverbero di elevata qualità. Completano la dotazione di questo prodotto una funzione anti-feedback (utilissima per il live) ed una modalità accordatore controllabile a pedale. L'AD-8 è senza alcun dubbio il processore essenziale per la chitarra acustica elettrificata.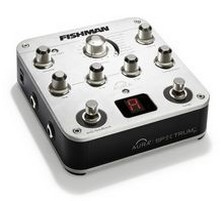 Aura Spectrum DI è la soluzione completa per il musicista acustico di altissima qualità.
128 immagini presettate dei più popolari strumenti acustici; Preamp con uscita XLR D.I. out bilanciata; Volume, Blend e controlli di selezione immagini; Three band EQ; One-knob compressor; Automatic anti-feedback con 3 notches; Accordatore Chromatico w/bypass/mute; Interfaccia USB per scarciare immagini sonore dalla Aura Image Gallery (software included); Feedback-fighting Phase switch con 3 notch; Automatic D.I. Ground Lift; 9-Volt Battery or optional adaptor operation
Audio I/O: 1/4" mono input & output w/input trim control; Balanced XLR D.I.; 1/4" effects loop; 24-bit A/D/A conversion; Processor: 32 bit processing; Material: Durable all-metal construction; Dimension: 5.6"L x 5.25"W x 2.1"H; Power: 9-Volt battery or optional adaptor power
Hartke Acoustic Attack AGX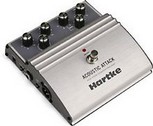 L' AGX emula un preamplificatore microfonico valvolare con un equalizzatore a 3 bande: bassi, alti e una sezione mid parametrica sweepabile. E' dotato di uscita XLR. Costruito con involucro in alluminio.
TC Elctronic G-Natural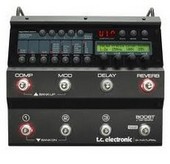 The TC Electronic G-Natural multi-effects processor is specifically designed to complement acoustic guitars. Housed in a robust floor-based metal unit, the TC Electronic G-Natural includes 10-premium TC effects fine tuned for acoustic guitars, plus a built-in microphone preamp for vocals or miking acoustic guitars, a built in tuner, boost function, and 99 factory presets and 99 user-customizable presets that will give your live acoustic sound a natural touch. Effects include Compression, EQ, Boost, and various modulation effects like Chorus, Detune, Thicken, Flange, Panner etc.
TC Electronic G-Natural ships with 99 factory presets optimized for a variety of musical styles and playing techniques. 99 user-customizable presets allow you to customize multi-effects for your sound. Built-in tuner, S/PDIF RCA phono digital I/O, expression pedal input and MIDI In/Out/Thru make G-Natural an ideal multi-effects solution for the serious performing acoustic guitar player.
The TC Electronic G-Natural features a built-in mic preamp as well as a standard instrument input allowing you to choose between using a piezo or other pickup system or miking your guitar with a condenser mic. Use both a pickup and a mic then mix the signals inside G-Natural to get the optinum tone. G-Natural's mic pre can also be used for vocals. Put G-Natural in song mode and you automatically get a vocal strip EQ and reverb block. The reverb can be bypassed via a footswitch to avoid unwanted effects when you're presenting the next song.
With the G-Natural you can get incredible TC Electronic studio quality acoustic guitar effects in a easy to use package designed to live on-stage.
AER Pocket Tools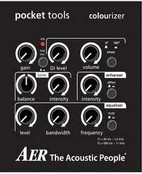 AER Dual Para EQ dual band parametric EQ features switchable frequency-ranges to be used separately or in combination with the AER Dual Mix or Colourizer. AER Dual Para EQ features a 1/4-inch TS jack socket input for guitar pick-ups and line-level sources. Dual Para EQ has a two parametric equalizers with a bandwidth of 1 octave - 1/6 octave, and are switchable between 90Hz - 1.6 kHz, and 680Hz - 11kHz. A phase switch reverses the signal's polarity in relation to the input signal.
Bandbwidth: 1 Octave - 1/6 Octave
Frequencies: f1=90Hz - 1,6kHz, 2=680Hz - 11kHz
Phase Invert (in relation to the phase of the input signal a reversal from 0 to 180 degrees)
Dimensions (H x B x T): 6,5 x 10,5 x 13,5 cm
24V DC power supply included.
BBE Acousticmax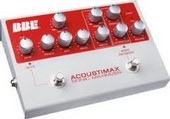 The BBE Acoustimax acoustic instrument preamp takes the plugged-in sound of your instrument and applies BBE's Sonic Maximizer to add sparkel to your tone.
This flexible preamp also serves as a direct box, so it's a useful stage box for virtually any instrument. You get a 3-band EQ for tone shaping, and a low-frequency notch filter to fight feedback-causing frequencies. The Acoustimax is built tough in true BBE fashion, so you know you can count on it onstage. If you want a great plugged-in acoustic sound with plenty of tone-shaping capability, get the BBE Acoustimax acoustic instrument preamp.
The BBE Acoustimax preamp provides 3-band recording-console-quality EQ with sweepable mid and low frequency notch filter. Phase reversal, ground lift, line level out, dedicated tuner out, TRS effects loop, and even a pre/post switchable DI output with pad make this a true studio-quality device that shines onstage. Hardwire bypass, non-slip rubber bottom, included 12V power supply.
LR Baggs Venue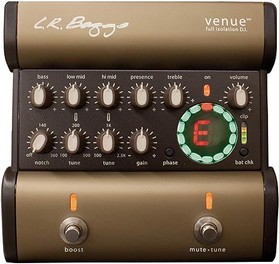 Preamp, DI-Box, Equalizer and, Tuner in foot pedal format. Based on Para DI, 5-Band EQ, Notch Filter, Phase Switch. Road-worthy all-in-one pedal with Preamp, Tuner and 5-Band EQ. 5-Band EQ with parametric mids. Phasen-Switch for feedback control. Zero Notch Filter. VU-Meter level control. Full isolation audio transformer-coupled DI.
Radial Tonebone PZ-Pre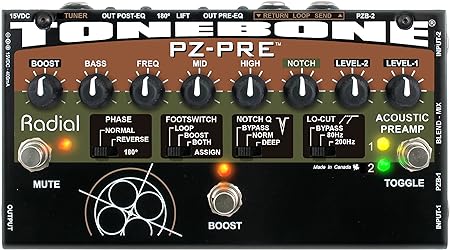 The Radial Tonebone PZ-Pre™ is the most powerful acoustic preamplifier ever to be put inside a pedal. And when we say acoustic, we do not just mean acoustic guitar; we mean ANY acoustic instrument including banjo, violin, cello, mandolin, contrabass, bouzouki or lute. The magic of the PZ-Pre lies in the combination of high performance 100% discrete class-A piezo boosters, an ultra-quiet preamp circuitry that will adapt to any pickup system and a host of connectivity options that put you in control of any situation.
The PZ-Pre features two inputs for quick instrument changes on stage, a powerful yet warm sounding semi-parametric EQ to tailor your sound, plus a host of feedback eliminating controls including: a dual-Q notch filter to surgically remove feedback points, a high-pass filter to cut low frequency resonance and a phase reverse switch to optimize the acoustic environment on stage. The PZ-Pre is equipped with three separate outputs: a ¼" on-stage instrument amp out, a balanced XLR pre-EQ direct out for the house mix and a balanced XLR post EQ out for stage monitors or in-ears. A dedicated tuner out with mute switch is provided for quiet on-stage tuning as well as an effects loop and power booster to add sizzle and dynamics to the performance!
Compact and easy to use, the Radial PZ-Pre packs in all of the features you need to take your acoustic instrument from home to studio and club to concert.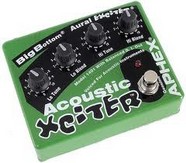 This Aphex Big Bottom Aural Exciter drenches acoustic guitars, violins, cellos, violas, saxophones, flutes, accordions, xylophones, keyboards in Aural Excitement like never before - at the touch of a footswitch! Any traditional acoustic instrument outfitted with active or passive pickups will benefit from the sound reinforcement possibilities provided by the Acoustic Xciter effects pedal! Your instrument's voicing will be clean and open, with a fuller reach to the lowest notes, due to better articulation, clarity, and projection with this pedal.
Features patented Aphex Aural Exciter and Optical Big Bottom technology. Designed for acoustic instruments
Active/passive switch; Lo Tune, Lo Blend, Hi Tune, Hi Blend controls; 1/4" input jack; 1/4" output jack; XLR DI output; 9V battery or AC adapter powered.
Zoom A3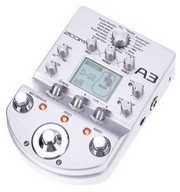 Il nuovo Zoom A3 ricrea il "vero" suono della chitarra che si sta suonando. Le 16 tipologie di body, unite alle 28 simulazioni acustiche, permettono di riprodurre tutte le minime variazioni timbriche date dalla forma e dai materiali costruttivi, restituendo un suono di chitarra acustica ricco e ben connotato. I 28 modelli di chitarra acustica sono stati creati con estrema attenzione al più piccolo dettaglio considerando, oltre alla forma del body, anche la catenatura e il tipo di legno (abete, mogano, palissandro, etc). Il preamp dello Zoom A3, progettato specificamente per chitarra acustica, può essere utilizzato con pickup piezoelettrici, magnetici e passivi. Inoltre, la combinazione di ingressi Mic XLR con alimentazione phantom e jack 1/4", consente di collegare un microfono e mixare il segnale con quello del pickup. La sezione preamp dispone di EQ-3 bande e di manopola Balance per impostare il rapporto tra suono originale (DRY) e suono con effetti (WET).
Behringer V-Tone ADI21 Acoustic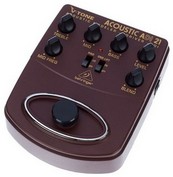 Per loro natura, i pickup piezo tendono ad essere molto brillanti, con risposta ai bassi e calore piuttosto ridotti. L' ADI21 combina le caratteristiche di una DI box attiva (Direct Injection) con l'esclusiva emulazione microfono/valvola. Se non si desidera utilizzare la funzione di emulazione, l'ADI21 funziona anche come una superba DI box attiva. Il controllo BLEND permette di miscelare la quantità di suono modellato con l'uscita normale del tuo strumento. Il suono che ne risulta è più naturale, con una saturazione uniforme, come se la chitarra fosse microfonata.
Caratteristiche principali:
Modellatore di preamp acustico con uscita DI Recording
DI a doppia modalità per uscita diretta con emulazione mic/tube o DI attiva standard
Uscita su Jack da 6,3mm o connettori bilanciati XLR
Interruttore Ground Lift elimina i tipici problemi di messa a terra
Funziona con batteria da 9V o alimentatore PSU-SB (non incluso)